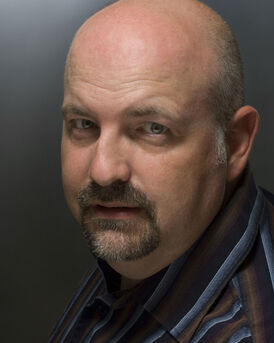 Norman Mikeal-Berketa
 is a Canadian actor, voice actor, writer, producer, and musician. He has participated in many Canadian productions, ranging from cartoons to live-action tv series and movies. He is the owner and creative director of 
NMB Productions
, a studio specializing in audio and video creations as well as website maintenance. He also played in several bands, including 
Silent Q
 and 
The Initiatives
.
[1]
[2]
Early life
Norman was born on August 23rd 1963 in Toronto, Canada,[3] and moved to the capital city of Ottawa in 1969.[4][5][6] He still lives there to this day with his wife and two children, Matthew and Hayley.[7]
Career
Acting and voice acting
In 1996, Norm joined the BigTime Productions as an actor for Murder Mystery productions and other theatrical events.[8][9] On the screen, He made his debut as an actor in 1997, playing a security guard in the episode "La Mano Negra" of Soldiers of Fortune, Inc. (uncredited).[6][7] From that point on, Norman has done many roles in live-action TV series, TV movies, films, and cartoons. He has also worked for business companies, doing voiceovers for various commercials, including Garnier, Kijiji, and Hasbro.[10][11]
Norm continues to cast in video productions to this day.
Writing
Through his studio, Norman has written works for many different companies.[12] His work includes scripts for live stage performances, commercials, corporate events, and variety shows for radio.[13] He has also written for Ottawa Life Magazine, having published a short story and a bi-monthly humour column.[13]
As a producer, Norm has written scripts for several short films, such as BLAST, Puppet and Good for the Soul.[13][14] He also writes for web and TV series, namely for The Writer's Block and Gentle Bend.[13]
Music
Norm's musical career started as early as the 1980s. He first formed the group Al's Garage along with Paul Seale, Fred Hackett and Al.[7] After Fred and Al's departure, Greg Friend (keyboard/vocals), Steven Bird (second bass player) and Anthony a.k.a. Tony Chhangur (drums)[7] joined Norm (guitar/vocals) and Paul (guitar/vocals). The pop ska/reggae style band was then renamed Silent Q.[7] It played between 1982 and 1983 in Ottawa to great success.[7][15] In 1984, the group was restructured: Norm and Greg kept their respective roles, while Fred Hackett returned as a bass player and vocalist, and Gary Sanford joined as the drummer.[16] The band changed its name again to The Initiatives.[16] However, in 1985, the group disbanded for good.[16]
After the members of The Initiatives went their separate ways, Norman continued to pursue musical projects. He began experimenting on an analog multi-track machine, creating around 250 songs between 1985 and 1991 under the name The Norm.[17][18] In the 2000s, after converting to digital, he began the Deadlivestock project along with Buddy Munt and Alphonso Brouilliard.[19] He created four CDs of original material[20] while the fifth was cancelled before its official release in 2011.[21] In January 2012, Norman moved on to his second project, Sun Holes.[22] So far, he has produced three CDs, with the most recent having been released in 2014.[23]
Norman's musical career is ongoing, although he does it mostly for fun.
Animated roles
Toad Patrol
Others
Faireez (2005) - Various voices
Zeroman (2004) - Various voices
Untalkative Bunny (2000) - Various voices
For Better or for Worse (2000) - Additional voices
Hoze Houndz (1999) - Clock / additional voices
Kevin Spencer (1999) - Regular principal / Mr. Franklin
Trivia
Norman's full name is often shortened to Norm Berketa.
His last name can sometimes be misspelled as Berketta (with two "t"s instead of one).
See also
References