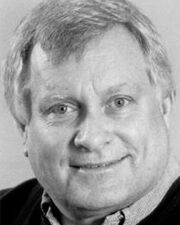 Michael O'Reilly
is a Canadian actor, songwriter, musician, and voice actor. He has more than 25 years of experience on the screen, as well as a prolific and active musical career.
Early life
Michael was born sometime around the late 1940s or early 1950s.[1] He showed an interest in music early on, thanks to his father's wind-up phonograph and country records.[1]
Career
Acting and voice acting
Michael's voice acting career began in 1988 in the Dennis the Menace 1986 TV series.[2][3] He subsequently obtained more roles, participating in a video or animated production nearly every year afterwards. However, after filming the live-action TV movie My Daughter's Secret in 2007,[2] Michael took a five year break from the screen. He returned in 2012 in My Mother's Secret, also a live-action mini-series.[2][3] He is most known for his role as Greg in The Commitments (1991) and his appearance in The Van (1996),[2] both movies being part of The Barrytown Trilogy. Michael has also done voiceover work for several corporate productions.[3]
Music
In his early years, Michael taught himself how to play the guitar, banjo, and mandolin.[1] He also quickly developed a talent in songwriting and singing. Throughout his life, he has been a member of many bluegrass country bands, including Mike O'Reilly and Cody[1][4] and The Dick Smith and Mike O'Reilly Band.[5][6] The latter still performs to this day, having participated in the 20th Annual Bluegrass Festival in Ottawa Valley in July 2014.[7] The band has also released several CDs available for purchase.[8][9][10]
At some point, Michael also began hosting Rural Roots on CJET Country Classics radio.[1] He later moved on to hosting and leading The Radio Kings, a radio mixing group.[1] The trio, composed of Mike (mandolin/lead vocals), Al Bragg (steel guitar/keyboard) and Steve Piticco (lead guitar/vocals), released a single album in 2002.[11]
Animated roles
Toad Patrol
Others
Faireez (2005) - Additional voices
Galidor: Defenders of the Outer Dimension (2002) - Jens
For Better or for Worse (2000) - Various voices
Hoze Houndz (1999) - Hozers
Princess Sissi (1997) - Additional voices
The Country Mouse and City Mouse Adventures (1997) - Monet / additional voices
The Magical Adventures of Quasimodo (1996) - Kasimir
David Copperfield (1993) - Mr. Micawber
The Legend of White Fang (1992) - Various voices
For Better or for Worse: The Last Camping Trip (1992) - Pete McLeod
Young Robin Hood (1991) - Alan-A-Dale / various voices
A Bunch of Munsch (1991) - Various voices
Samurai Pizza Cats (1990) - Wally / The Professor
The Little Flying Bears (1990) - Rodney / additional voices
Bluetoes, the Christmas Elf (1988) - Elf #1 / Gummy
Dennis the Menace (1986) - Arab
Awards
Trivia
Michael's name is oftened shortened to Mike O'Reilly.
Michael was inducted to the Ottawa Valley Country Music Hall of Fame in 1996.[1]
See also
References