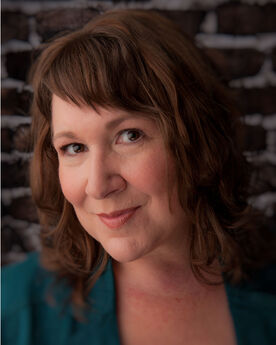 Kate Hurman
is a Canadian actress, director, voice actress, and teacher. She has more than 25 years of professional experience in the field of theatre creation. Kate was an artistic associate at the NAC (
National Arts Center
) from 1999 to 2008 and a chair for the Theatre Advisory Committee at the 
Ottawa Arts Court Foundation
 from 2009 to 2011.
[1]
Early Life
Kate enrolled at Queen's University in Kingston, Canada, in 1979 and completed her Bachelor of Arts in Theatre and English in 1982.[1][2] She then went through the Intensive Acting program at the National Theatre School of Canada, which she completed in 1985.[1][2] She celebrated the birth of her first daughter in Fall 2001[3] and currently lives near the capital city of Ottawa.[4]
Career
Acting and voice acting
Kate began her actress career in 1987 at the GCTC (Great Canadian Theatre Company) and continued to play for the company until 2013.[1][2] Through her 26 years with them, she also worked as a director for two of their plays.[5] Kate also was an actor for the Stratford Festival Theatre in 2005.[1][2] She most recently starred in My Brilliant Divorce by Geraldine Aron in May 2014.[6][7]
In 1999, Kate earned her first live-action role in the movie Juiced, a comedy filmed as a documentary centered around a single day in the life of a waitress.[8][9] She quickly moved on to animated roles in the same year, even starring as the main character of A Miss Mallard Mystery.[3][10] After a seven year absence from the screen, Kate returned in 2011 in the TV movie Secrets from Her Past and continues to participate in video productions to this day.[10]
Throughout her career, Kate has also done voiceover work for several commercials and corporate productions.[2]
Teacher
Kate's teaching career started in 2001. She became a professor of theatre at Algonquin College that year, and continued teaching there until 2011.[1] She also taught at St. Lawrence College in Brockville (from 2008 to 2014) and the University of Ottawa (from 2009 to 2011).[1]
Since 2009, Kate has also been a voice coach for individuals and corporations.[1][4]
Animated roles
Toad Patrol
Others
For Better or for Worse (2000) - Additional voices
A Miss Mallard Mystery (1999) - Miss Mallard
X-Chromosome (1999) - Ms. Rottweiler
Hoze Houndz (1999) - Additional voices
Awards
Winner of Capital Critics Circle, Best Actor (2005) - For originating the role of "Sandra" in Emil Sher's Mourning Dove.[1]
Winner of Ottawa Xpress Magazine, Best Actress (2000) - Voted in by readers.[1]
Trivia
Aside from Ottawa, Kate has lived in Montréal, Toronto, Edmonton, and Australia.[4]
The other theatres Kate has worked for include the Vancouver Playhouse, the Citadel Theatre, Theatre Calgary, Persephone Theatre, the Royal Manitoba Theatre Centre, the Toronto Free Theatre, the Centaur Theatre, and Theatre Newfoundland Larbrador.[11]
See also
References