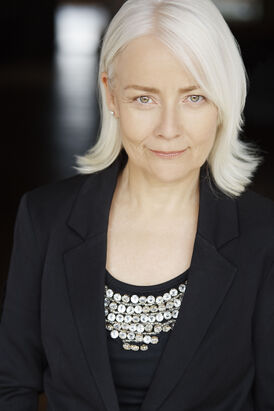 Patricia Dawn Ford
is a Canadian actress, voice actress, and voice coach. Throughout her career, she has had the chance to work in big budget productions with famed celebrities, like 
Mirror Mirror
(with 
Julia roberts
 and 
Nathan Lane
) and 
Warm Bodies
.
[1]
She has occasionally directed video productions and has gathered a wide array of skills ranging from modelling to performing martial arts.
[2]
 Dawn is a member of
ACTRA
,
Canadian Actors' Equity Association
,
Union des artistes
and
SOCAN
.
[2]
Early life
Dawn enrolled at Concordia University (Montréal, Québec) in 1982 and completed her Bachelor of Arts in Inter-related Arts in 1991 while being the lead singer of the pop band The Perfect Now.[3][4] She later went to Venice, Italy, in 2004 to pursue private studies on Commedia dell'Arte (form of Italian theatre).[3][4]
Career
Acting and voice acting
Although Dawn's acting career officially began in 1986, it didn't really take off until 1996 when she made an appearance on the TV series Sous un ciel variable.[1] She has been very active on the screen ever since, participating in video productions on a practically yearly basis.[1] Her work includes live-action TV series, TV movies, films, shorts, and animated series.[1][2] She even provided the voice of Amanda Bailey in the popular Assassin's Creed III video game.[1] Dawn has also done voiceover work for other projects, such as commercials and public service announcements.[2]
Voice coach
Sometime in the late 2000s, Dawn Ford created the Dawn's Vocal Warm Up CD, an instructional CD made for actors and voice performers.[5] It teaches useful warm up exercices to anyone who uses their voice.[5] She also offers personal coaching sessions in person or by Skype for a modest fee.[5]
Animated roles
Toad Patrol
Others
Emma's Wings: a Bella Sara Tale (2013) - Deru
The Legend of Sarila (2013) - Tayara
Fishtronaut (2009) - Fishtronaut
Monster Buster Club (2008) - Old Lady / Elderly Neighbour / Princess Penny
Zoé Kézako (2004) - Super Duper
Pinocchio 3000 (2004) - Additional voices
The Lost World (2002) - Mina
For Better or for Worse (2000) - Additional voices
Lion of Oz (2000) - Additional voices
A Miss Mallard Mystery (2000) - Mia Pintail
Arthur (1999) - Mrs. Molina / Wanda / Boy / Sadie / Cali
Mona the Vampire (1999) - Temujin & Mitzie / Miss Dewey
The Country Mouse and the City Mouse Adventures (1999) - Cousin MacKenzie / Christos
The Little Lulu Show (1999) - Iggy Inch / Mrs. Van Snobb
Animal Crackers (1997) - Additional voices
Awards
Nominated for Aurora Award, Best Actress (2005) - For her performance as Anetone in Exodus by Joseph Baron.[2][8]
Nominated for ACTRA Award, Outstanding Voice Performance (2013) - For her performance as the titular character of Fishtronaut.[9][10]
Trivia
Patricia Dawn Ford usually shortens her name to simply Dawn Ford.
See also
References