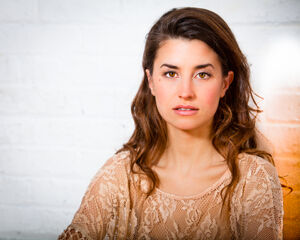 Bryn McAuley
is a Canadian actress, voice actress and singer. She currently lives in Toronto, Ontario, Canada. Bryn Co-founded and Co-chairs an organization called YEAA, the Young Emerging Actors Assembly.
[1]
[2]
[3]
YEAA is ACTRA's Toronto youth community and represents young actors aged between 16 and 27 years old.
[1]
[2]
[3]
Early life
Edit
Bryn was born in the early 90s and did her early studies at Vaughan Road Academy.[4] She later enrolled at the Ryerson University in 2010, pursuing a Bachelor of Arts in Arts and Contemporary Studies.[4][5] She is expected to graduate in 2015.[5]
Acting and voice acting
Edit
While already exposed to the industry when she was only four,[3] Bryn's acting career officially began when she was six years old, after landing the role of Caillou in the TV series of the same name in 1997.[6][7] She quickly made her mark in the industry, almost participating in at least one animated production a year from then on. Her official debut on the live-action screen was in 1998, in the movie The Sleep Room.[7][8] She is most known for her role as Joanna Carr in the TV movie What Katy Did, which also starred Michael Cera and Allison Pill.[7][8] As she grew up, Bryn transitioned to adult roles and still actively participates in live-action productions to this day.
Aside from screen roles, Bryn has also dabbled in the theatre industry. After a few small roles, she starred as the lead character in Claire, from the Bus by Kjartan Hewitt alongside Ennis Esmer in 2013.[7]
Animated roles
Edit
Toad Patrol
Total Drama Presents: The Ridonculous Race (2015) - Taylor
Daisy: A Hen Into the Wild (2014) - Chirpie / Baby Willie
Numb Chucks (2014) - Quills
Total Drama (season 5) (2014) - Amy / Samey
Grojband (2012) - Laney Penn / Larry Nepp
Camp Lakebottom (2013) - Suzi
The Day My Butt Went Psycho! (2013) - Eleanor Sterne
Beyblade: Metal Fusion (2013) - Ren
Beyblade: Shogun Steel (2013) - Ren
The Cat in the Hat Knows a Lot About That! (2012) - Princess Lottachoca
Crash Canyon (2011) - Roxy Wendell
Justin Time (2011) - Princess
Arthur (2010) - Capri Divapida
Skatoony (2010) - Goldie Pops
Stoked (2009) - Caroline
Pearlie (2009) - Twinkle
Toot & Puddle (2009) - Lilly
Franklin and the Turtle Lake Treasure (2006) - Harriet Turtle
Harry and His Bucket Full of Dinosaurs (2005) - Sam
Carl Squared (2005) - Skye Blue
6teen (2004) - Kylie
Back to School with Franklin (2003) - Harriet Turtle
Girlstuff/Boystuff (2002) - Hanna
Angela Anaconda (2002) - Gina Lash
Franklin's Magic Christmas (2002) - Harriet Turtle
Franklin (2000) - Harriet Turtle / Marmot
George Shrinks (2000) - Becky Lopez
Anne of Green Gables: the Animated Series (2000) - Anne Shirley / Katie Maurice
For Better or for Worse (2000) - April Patterson
Tales from the Cryptkeeper (1999) - Karen
Medabots (1999) - Erika Amazake
The Littlest Seagull and the Cat (1998) - Littlest Seagull
Caillou (1997) - Caillou
Winner of Toronto Theatre Critics Award (2013) - For her performance as Little Red Riding Hood in Ross Petty's Snow White.[6]
References
Edit
Ad blocker interference detected!
Wikia is a free-to-use site that makes money from advertising. We have a modified experience for viewers using ad blockers

Wikia is not accessible if you've made further modifications. Remove the custom ad blocker rule(s) and the page will load as expected.