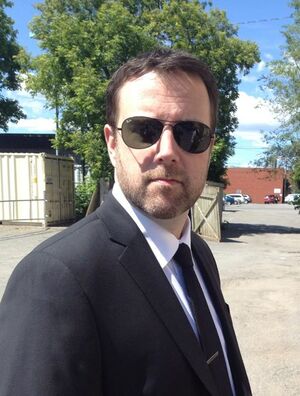 Brady Moffatt
is a Canadian actor, voice actor, and musician. He has participated in about a dozen video productions, ranging mostly from animations to video games. Brady has also played in several bands throughout his life and still actively practices music.
[1]
[2]
Early life
Brady has lived in Ottawa, Ontario, his entire life, which allowed him to perform with many Ottawa-based bands.[1]
Career
Acting and voice acting
Brady's voice acting career officially began with the video game Jagged Alliance 2 in 1999.[3] He then went on to perform for the animated series Hoze Houndz[4] during the same year, quickly followed by the animated feature film Heavy Metal 2000 in 2000.[3] For the following years, Brady continued to fill small roles for a few animated series and video games until he went on a nearly ten year long hiatus between the early 2000s and 2009.[3] Since his return as Anadabijou in the animated documentary Dead Reckoning: Champlain in America,[5] Brady has worked for a few projects, including the popular video games Assassin's Creed III and Watch Dogs.[3]
In 2010, Brady appeared for the first time on the screen in the Canadian live-action TV movie The Stepson.[3]
Music
Brady's first experience as a musician was back in 1991, when he formed the group The Big Knockers alongside Dave Gains, Jon Coote, Alex Randall, and Jamie D.[6] After Jamie's departure in 1993, the alternative rock band was renamed Saddledogs  and released its first and only CD, "Fetch", in 1994 after Dave Gains was swapped for Dave Milliken.[1][6] Brady (vocals/guitar), Jon (vocals/bass), Alex (drums), and Dave (vocals/guitar) remained together until the group finally disbanded in 1996.[1][6]
Between 2003 and 2008, Brady continued to perform as a guitarist, bassist and singer for the bands Fashionably Unconscious and Clown Faced Cowboys, not to mention numerous performances as a duo with Dave Milliken as well.[1] At the same time, in 2004, Brady and some of his friends formed a soul and Motown band called Soul Cracker.[7] Four years later, the group decided to separate to allow each member to focus on other projects.[7] In July 2012, the band was restructured and reborn, with Brady (vocals/keys) still present and actively performing with the other eight members of the group.[7][8]
Animated roles
Toad Patrol
Others
55 socks (2011) - Narrator
For Better or for Worse (2000) - Additional voices
Heavy Metal 2000 (2000) - Lambert
Hoze Houdz (1999) - Additional voices
Trivia
Brady Moffatt's name is often misspelled as Brady Moffat.
Since Brady Moffatt is uncredited in the second season of Toad Patrol, it is assumed somone else performed the voice of Slippery Jack. However, this has yet to be officially confirmed or debunked.
Although Brady Moffat is represented by the Mensour agency, his portfolio page on their website is completely empty.
See also
References